We all need a roof over our head, but years of bad policies have benefitted wealthy landlords more than ordinary Londoners.
House prices average £441,000
That's 16 times the average local individual income.
You'd struggle to get a mortgage on more than 5 times your income.
Rents average £1,300 pcm
That's 50% of average household take-home pay.
Anything over 35% of your take-home pay (after tax) is considered to be unaffordable.
42,260 households are homeless
2,340 of them are living in Bed & Breakfasts.
More and more people are becoming homeless when their tenancy ends.
How broken is your local housing market?
Their false hope
Other political parties say they will build enough homes to solve the problem. But...
Two thirds of new homes are sold to investors
The average Londoner could only afford around 3% of new homes currently on the market in London. Lots of new flats are built for the benefit of investors, who get the first chance to buy them and can afford the astronomical prices. This is an excerpt from a real advert!
You're left renting the homes
We end up having to rent these overpriced new homes from investor-landlords, with some of the weakest tenancy protections in Europe, unregulated rents rising three times as fast as incomes, and awful letting agents. But investors are told...
We've been losing social housing
Thousands of council homes are unnecessarily demolished to make way for new private housing, and councils have let developers build far too little new social housing, so they struggle to help homeless families. But investors are told...
Homes for Londoners
Only Greens will fight for:
Taxes on wealthy investors
We will campaign for fairer taxes like Land Value Tax to discourage investors from buying new homes, helping to stabilise prices. We should be building homes for Londoners, not assets for investors.
A fairer deal for tenants
We will push for more secure tenancies and smart controls to stabilise rents. We cannot leave a quarter of Londoners in the wild west of Europe's private rental market while we wait for new homes to be built.
Prioritise affordable housing
We will take a tougher stance with developers to make sure they build more affordable housing, and stop demolishing existing homes. We should massively increase investment in new social housing.
Greens have already changed housing policy in London for the common good:
local councillors and London Assembly Members have helped co-operatives and community groups build and refurbish empty homes
Darren Johnson AM has won cross-party backing for reforms to the private rented sector
in the European Parliament, Jean Lambert MEP has worked with other Green MEPs to win support for a European homelessness strategy
Have a look at Darren Johnson's
Crumbs for Londoners report
to learn more.
Help us change London for the common good
You can join us, and many other housing campaigners, tenants groups and NGOs, in changing our housing policy so it works for the common good, not just for the narrow interests of investors.
2. Join a protest
We're going to organise a string of protests outside new homes being built for investors.
The first were outside Mount Pleasant in Islington, and the Arthouse building in Camden. Join the campaign to get the details for future actions!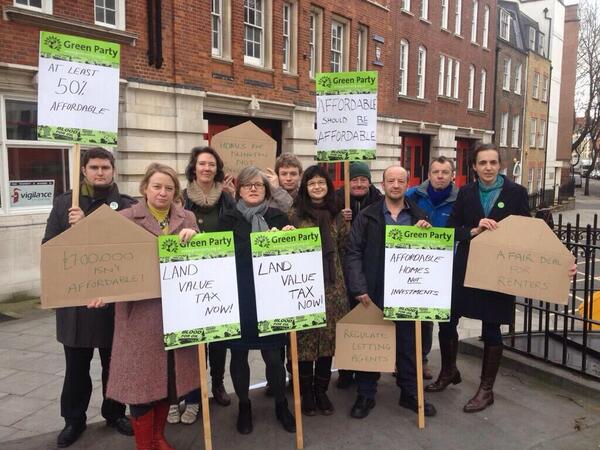 3. Help us elect Greens
Without a Green in the room, these issues and arguments won't necessarily be heard.
Can you help deliver leaflets, knock doors, or contribute to the costs of our election campaign? We are mostly funded by ordinary Londoners, we don't take money from corporations or have lots of rich backers.
Find your local party and contact them to get more involved.